Table of Contents
CoRAM FPGA Computing Abstraction
Overview
We are developing the CoRAM FPGA computing abstraction to facilitate high-level and portable application development for FPGA acceleration platforms. The goal of the CoRAM abstraction is to present the application developer with (1) a virtualized appearance of the FPGA's resources (i.e., reconfigurable logic, external memory interfaces, and on-chip SRAMs) to hide low-level, non-portable platform-specific details, and (2) standardized, easy-to-use high-level interfaces for controlling data movements between the memory interfaces and the in-fabric computation kernels. Besides simplifying application development, the virtualization and standardization of the CoRAM abstraction also make possible portable and scalable application development.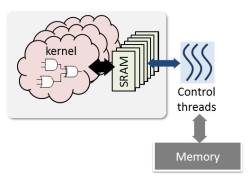 Our earlier work focused on standalone FPGA platforms (that operate against private DRAM memory) [

Chung, FPGA'2011

]. Under this CoRAM-

classic

abstraction, the in-fabric computation kernels interact with only the simple on-chip SRAM blocks for data input and output. Separately, a set of control threads—expressed in a multithreaded C-like language—manage (1) the data movements between the off-chip DRAM and on-chip SRAMs, and also (2) the invocations of the kernels over time. The CoRAM compiler automatically infers and synthesizes from the control threads both the required data transfer paths and the state-machine controllers in support of the computation kernels.

More recently, we introduced a soft-logic CoRAM abstraction layer with further elevated kernel and control thread application-level interfaces that directly support the high-level semantics of commonly-used in-memory data structure types (e.g., streams, arrays, linked lists, and trees) [

Weisz, FPL'2015

]. We are currently investigating carrying the CoRAM paradigm to capture the new interactions between the application components on the processor cores and FPGAs in a cache-coherent shared-memory processor-FPGA system like the Intel QuickAssist QPI FPGA Platform.

Funding for this work has been provided, in part, by the National Science Foundation (CCF-1012851) and Intel ISRA. We thank Altera, Xilinx and Bluespec for their donation of tools and hardware.
Students
Joseph Melber

Marie Nguyen

Zhipeng Zhao
Demo and Downloads
Publications
Related