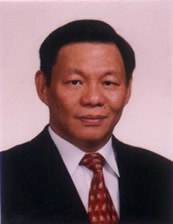 Sukanto Tanoto is a self-made entrepreneur, noted for his pioneering success in a number of industries in Indonesia. He opened the country's first plywood factory, and within Indonesia, is recognized as the business architect of the country's modern plywood and pulp industries.
A strategic thinker with a forward-looking vision, Tanoto is quick to capitalize on the enormous growth opportunities in the Asia Pacific region. In 1995, he restructured the pulp operations of RGMI Group to form a separate, pan-Asia pulp & paper company, Asia Pacific Resources International Holdings Limited (APRIL). Within a record span of 7 years, he succeeded in building a 2 million tonne, world-class, state-of-the-art, pulp mill in a developing country and amidst a most challenging environment. He is currently chairman of APRIL Group.
Besides pulp and paper, Tanoto also has interests in palm oil plantation, refinery and related businesses in Indonesia, Philippines, Malaysia and China, as well as engineering and construction. PEC-Tech is the engineering, procurement and construction arm of the RGMI Group. It has the resources and technological capability to manage large-scale engineering and infrastructure projects. Through PEC-Tech, the Group developed business initiatives, specializing in delivering energy projects to the market place e.g. power plants, LNG, and other energy-related projects.
On the personal front, Mr Tanoto is a firm believer in life-long learning. He is an avid reader and devotes time from his busy schedule to attend courses at the leading business schools in the world to keep abreast with the latest business strategies, ideas and management concepts.