Eric Black's CMU Webpage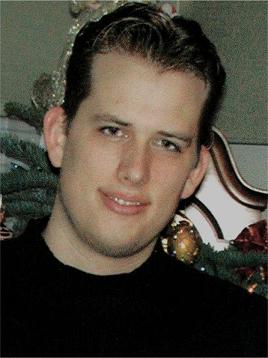 Biographical Information:
Hi there! Bear with me, I am teaching myself HTML bit by bit.
I currently am a graduate student here at Carnegie Mellon University. I can be found lurking about the Data Storage Systems Center in Roberts Engineering Hall. Right now, my attention is focused on conducting an investigation into thermal phenomena in microscale and nanoscale structures. Specifically, I am looking at the potential impact of thermal loading in disk drive magnetic recording heads. This information should be useful in the development of Heat Assisted Magnetic Recording (HAMR) heads that utilize implanted optical systems to heat the recording media. Long story short, I am helping to build a better disk drive so people will want to hire me and pay me lots of money because I am so clever...
Resume Current 10-Jan-05 [doc][pdf]


Scuba:
I am a big fan of SCUBA diving. I maintain PADI certification and have dove in the Pacific NW and Mexico. I hear there are a few lake dives around western Pennsylvania that may be worth checking out. I am also into the idea of getting some Eastern Coast dive time in. I need to make some dive buddies out here before I do that. I currently am at the Rescue Scuba Diver level in the PADI hierarchy. I need to make up my mind if I want to go Master Scuba Diver or Dive Master.


Brazilian Jiu-Jitsu:
When I do not have classes that conflict with workout times, I like BJJ for its elegance and brutal effectiveness. My location of choice is Steel City Martial Arts. The crew there really knows their stuff and does not seem to suffer from the attitude problem that I have found terribly common in the BJJ community.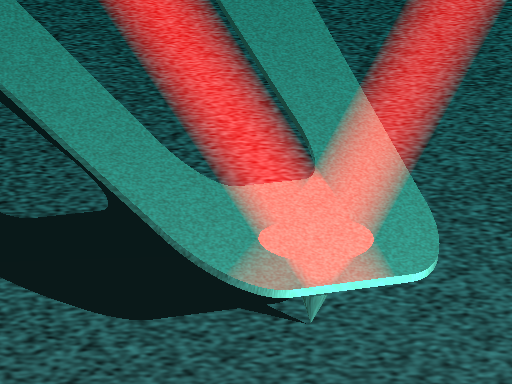 POV-Ray
Recently I was introduced to Point Of View Ray Tracer. This thing is pretty fun and I use a fair amount of my time figuring it out since I can make some entertaining images of things that I think of. At right is my render of a Force Microscopy Probe with the laser deflecting off the cantilever. Check out the POV-Ray site for details.



Updates:
Site Up, more to come later (22-Jan-04)
Photo from CMU that I don't like added, along with a bit more text and resume link (2-Feb-04)
Photo from some holiday that I DO like replacing the lame CMU pic. Added Scuba and BJJ sections (4-Feb-04)
Slight edit to avoid annoying the overly sensitive. (23-Feb-04)
Updated with POV-Ray info. (21-Apr-04)
Updated Resume. (10-Jan-05)
Last updated: 10-Jan-05