Directions to Collaborative Innovation Center (CIC Building)

My new office is located in room 2110 in the CIC building (on the second floor). Here is a satellite image of the campus with the CIC building highlited. Also, here's a PDF file with specific directions on how to get to the CIC building.

Directions to Hamerschlag Hall

General directions to Hamerschlag Hall are available on the departmental visitor's page.

View on Hamerschlag and Roberts Hall (Hamerschlag Hall is the building with the round tower):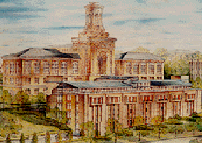 The campus map is useful, Hamerschlag Hall is building 12.
Below is a map of Oakland, with the red dots leading the way to Hamerschlag (when you're coming from 376, you'll be coming from Forbes Avenue.
A good hotel to stay at is the Holiday Inn University Center.